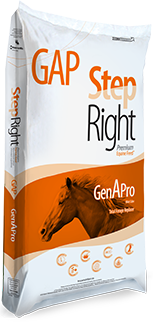 Product Number: 13457425
Product Information
GenAPro is a high fibre, low sugar, low starch complete feed that can be fed as a partial or total hay replacer. This alfalfa based product is well suited for travel or when forage quality and/or quantity is limited.
Features and Benefits:
Low sugar and starch (<10% NSC)
Ideal for competition horses that travel frequently and require a consistent quality forage.
Higher protein levels are consistent with what would be provided in hay, which is important for growth, performance, and maintaining muscle condition.
Mini cube feed form encourages chewing and saliva production, which in turn can buffer stomach acid and help to prevent gastric ulcers.
Feed in at least two separate feedings per day to growing and mature horses, according to the activity level and condition of the horse. This feed can safely replace a portion of the horse's daily intake of hay. GenAPro should be offered as a component of a balanced ration, including access to good quality forage and ample access to clean water. For breed-specific feeding recommendations, consult with your veterinarian.