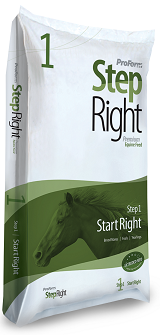 Product Number : 12505525
Product Information
Ensure you give your foal the right start with Step Right. Start Right is an extruded feed designed specifically for lactating brood mares, foals and weanlings.
Features and Benefits:
Extrusion technology creates a small kibble that is highly digestible and palatable for young horses.
All fat sources are non-hydrogenated vegetable oils that are selected to provide an optimum ratio of Omega 3 to Omega 6 fatty acids for a growing horse.
Fortified with Trouw Nutrition's Intellibond® and Optimin® trace minerals, pre and probiotics, biotin, full complement of B vitamins and SmartStep BeneFit Pak™ for superior digestibility, growth and performance in your horse.
Excellent for mares in the final stage of gestation and throughout lactation when nutrient demands are highest.
Feeding Instructions:
Feed to lactating brood mares after foaling, and to foals starting at about one week of age, and continue feeding to growing horses up to one year of age. Step 1 - Start Right should be offered as a component of a balanced ration, including access to good quality forage and ample access to clean water. For breed-specific feeding recommendations, consult with your veterinarian. Always provide ample clean, fresh water.