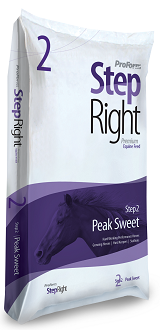 Product Number: 12486485
Product Information
Step 2 - Peak Sweet is a sweet, textured, high-energy feed designed for performance horses, growing horses, stallions and hard keepers. Great for horses engaged in heavy exercise, or for those requiring additional energy intake for metabolic reasons.
Features and Benefits:
14% protein, 10% non-hydrogenated fat from canola oil for increased energy and performance.
A highly digestible and palatable diet with optimum starch levels for performance.
A higher protein, balanced diet that includes Canadian oats.
Fortified with Trouw Nutrition's Intellibond® and Optimin® trace minerals, pre and probiotics, biotin, full complement of B vitamins and SmartStep BeneFit Pak™ for superior digestibility, growth and performance in your horse.
Feed Step 2 - Peak Sweet according to the activity level and condition of the horse. In general, the feeding level should be approximately 0.5-1.2% of body weight per animal per day. For best results, split grain feedings up into a minimum of two feedings per day. Step 2 - Peak Sweet should be offered as a component of a balanced ration, including access to good quality forage and ample access to clean water. For breed-specific feeding recommendations, consult with your veterinarian.