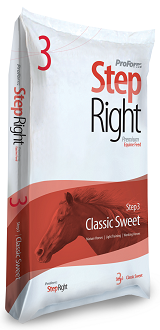 Product Number: 12786365
Product Information
Step 3 - Classic Sweet is a textured, sweet feed designed for mature horses involved in light to moderate activity.
Features and Benefits:
A highly digestible and palatable diet containing whole grains including oats, and a fortified supplement pellet.
All fat sources used are non-hydrogenated vegetable oils that are selected to provide a good ratio of Omega 3 to Omega 6 fatty acids to your horse.
Fortified with Trouw Nutrition's Intellibond® and Optimin® trace minerals, pre and probiotics, biotin, full complement of B vitamins and SmartStep BeneFit Pak™ for superior digestibility, growth and performance in your horse.
Feeding Instructions:
Feed Step 3 - Classic Sweet according to the activity level and condition of the horse. In general, the feeding level should be in approximately 0.5-1.2% of body weight per animal per day. For best results, split grain feedings up into a minimum of two feedings per day. Step 3 - Classic Sweet should be offered as a component of a balanced ration, including access to good quality forage and ample access to clean water. For breed-specific feeding recommendations, consult with your veterinarian.