Step 4 Complete Rocky Mountain Crunch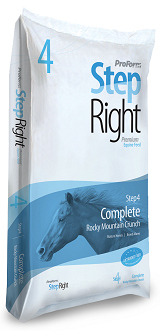 Product Number: 13348365
Product Information
Step 4 – Complete Rocky Mountain Crunch is a high fibre kibble designed for mature horses where forage quantity and quality is limited. It can be fed to mature horses as a partial forage replacement.
Features and Benefits:
A convenient, extruded high fibre kibble that is palatable and easy to handle.
Optimum fibre feed for mature horses.
Well-suited for travel and back country trips.
Extruded feeds encourage chewing and saliva production, which in tunr can buffer stomach acid and help to prevent gastric ulcers.
Fortified with Trouw Nutrition's Intellibond® and Optimin® trace minerals, pre and probiotics, biotin, full complement of B vitamins and SmartStep BeneFit Pak™ for superior digestibility, growth and performance in your horse.
Feed Step 4 - Complete Rocky Mountain Crunch according to activity level and condition of the horse. In general, feeding level should be approximately 0.5-1.2% of body weight per animal per day split into a minimum of two feedings per day. Feeding level will vary depending on the size, condition and activity level of the horse. Step 4 - Complete Rocky Mountain Crunch should be offered as a component of a balanced ration, including access to good quality forage and ample access to clean water. For breed-specific feeding recommendations, consult with your veterinarian.
Note:
This feed is not recommended for young growing horses or horses engaged in heavy exercise.