Optimize Piglet Performance and Cost of Gain with Milkiwean Efficient Start
In order to meet the different needs of piglets in nurseries, our Milkiwean feeding programs allow you to deal with enteric problems through the Vital Start program, to maximize growth with Best Start, or optimize costs with Efficient Start.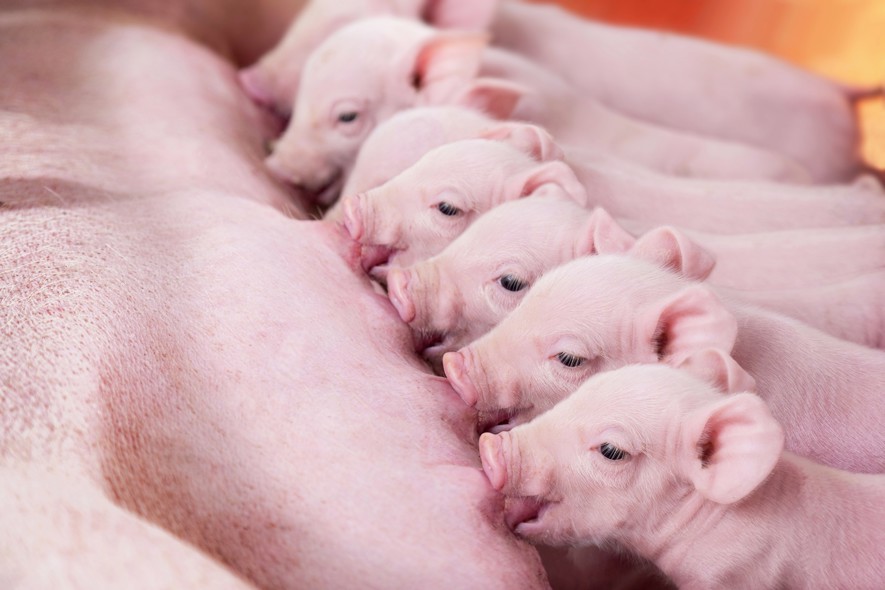 Trouw Nutrition is committed to continuously improving our products, service offerings and incorporating new and emerging innovations. As part of that commitment, we continue to offer our Milkiwean products optimized with Kinetio technology and we have updated the formulation of Efficient Start to maximize animal and economic efficiency in a dynamic market. In reviewing our Milkwiean Efficient Start program, four elements were considered as they have a large influence on the effectiveness of this program.
Protein
Protein ingredients are the building blocks that are essential for piglet feed as they influence performance, efficiency and gut health. First, a precise estimate of the needs at each stage of growth allows us to determine the optimal level, making it
possible to reduce the cost/kg of gain while maintaining the growth rate. Using the Watson®.S model, we can support
establishing the optimal concentration. In addition, the application of Kinetio technology, which takes into account the rate of digestion of each raw material, allows for the inclusion of a variety of ingredients that improve feed efficiency and reduce cost/kg of gain (Figure 1).
Special Ingredients
Commonly referred to as functional ingredients, this type of ingredient is used to help the piglet get through the many stresses that arise during weaning when the piglet's digestive maturity is not reached. Numerous tests have identified the combination of specialty ingredients that offer notable support for the piglet while allowing an improvement in the economic efficiency of the program.
Energy
As nutrition specialists, we learn the theory of the ingestion capacity of piglets and how this limits their growth. To overcome this physical constraint, it is common practice to maximize the energy concentration of feed. However, is the piglet always able to value this extra energy often coming from high levels of fat in rations? Our research studies have shown that in each context for the cost of ingredients, it is possible to find the concentration of energy that will allow the best return on investment (Figure 2).
Milk Production
Piglet feed contains a certain quantity of dairy products to ensure a successful transition from a milk diet to feed. The positive impacts are numerous:
contribution from a source of easily digestible energy,
helps acidify the stomach,
acts as a probiotic, and
ultimately improves the palatability of the feed.

However, it is recognized that too high of a level of milk products in a diet can predispose an animal to diarrhea. Although milk products are excellent sources of energy, their cost is quite high and can be volatile. We carried out several validation trials to reassess the recommendations and redefine the combination of milk products that allows the best cost of gain while maintaining growth rate.
The graph below (Figure 3) shows the result of our latest validation trial where we tried a concentration of milk products different from the control. These results show that we have been able to, at all stages from 0 to 28 days after weaning, maintain a high level of performance while
reducing the cost of gain.
In conclusion, in a year where the prices of ingredients are high, it is important to consider all the elements that allow for optimizing performance while reducing the cost. The updated formulation of Milkiwean Efficient Start has demonstrated improved efficiency and economic results in nursery pigs.