12% Rabbit Holding Pellets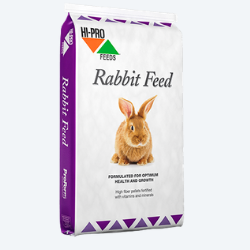 Product Number: 13348445
This product is only available from Trouw Nutrition dealers in British Columbia excluding the Peace River and East Kootenay regions.
Product Information
Features and Benefits:
Suitable for mature rabbits as a holding ration.
Formulated for optimum health and growth of rabbits.
High fibre pellets, aid in the reduction of feed waste.
Fortified with vitamins and minerals.
Feeding Instructions:
After feeding Hi-Pro Feeds 18% Rabbit Starter Pellets to 8 weeks of age, feed Hi-Pro Feeds 16% Rabbit Grower Pellets to market weight. After weaning, offer does Hi-Pro Feeds 16% Rabbit Grower Pellets on a restricted basis to prevent caked udders and does from becoming too fat. Full feed Hi-Pro Feeds 12% Rabbit Holding Pellets as a holding ration for mature rabbits.
Always provide access to clean fresh water.
Caution:
Directions for use must be carefully followed.
Ingredients:
A list of the ingredients used in this feed may be obtained from the manufacturer or registrant.
This feed contains added Selenium at 0.1 mg/kg.
Feed Analysis
Crude Protein (min) 12.0%
Calcium (act) 0.8%
Crude Fat (min) 3.0%
Phosphorus (act) 0.5%
Crude Fibre (min) 12.0%
Vitamin A (min) 10,000 IU/kg
Crude Fibre (max) 16.0%
Vitamin D (min) 2,500 IU/kg
Sodium (act) 0.2%
Vitamin E (min) 55 IU/kg
Individual results from the use of this product may vary due to management, environment, genetics, health and sanitation differences. Therefore, Trouw Nutrition Canada, Inc. does not warrant or guarantee individual results.