16% Dry Cow Primer Pellets (Medicated)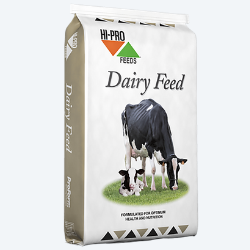 Product Number: 650351
Product Information
Claim:
For minimizing loss of body condition during lactation in dairy cows.
Feeding Instructions:
Mix this supplement with grain and forage at 10.8% of the diet dry matter to provide monensin sodium at 12 mg/kg in the complete feed dry matter. For complete grain rations, mix 222 kg of this 16% Dry Cow Primer with 778 kg grain and feed to dry dairy cows with free choice low potassium forage. Always provide a source of fresh clean water.
The following table indicates the maximum allowable daily intake of 16% Dry Cow Primer for different body weights:
| | | | | |
| --- | --- | --- | --- | --- |
| Body Weight (kg) | 400 | 500 | 600 | 700 |
| Maximum Daily Intake (kg as fed) | 1.52 | 1.85 | 2.22 | 2.36 |
Warning:
Do not supplement monensin from other sources (eg. other feed stuffs containing monensin or the Rumensin Controlled Release Capsule). Keep out of reach of children.
Caution:
Directions for use must be carefully followed.
Do not use in association with another feed containing supplemental Selenium.
Do not allow dogs, horses or other equines or guinea fowl access to formulations containing monensin. Ingestion of monensin by these species has been fatal.
The 24 g/tonne monensin treatment in primiparous cows may result in the increased incidence of udder edema and increased number of inseminations per full term conception.
The continuous use of monensin in dairy cows may be associated with increased rates of twinning and stillbirths, and have heavier birth weights for heifer calves.
Note:
Complete diet refers to the complete feed plus the roughage and must be corrected to a 100% dry matter basis.
Ingredients:
A list of ingredients used in this feed may be obtained from the manufacturer or registrant.
This feed contains added Selenium at 2.7 mg/kg.
Active Medication Ingredient:
Monensin Sodium 100 mg/kg
Feed Analysis
Crude Protein (min) 16.0%
Iron (act) 250 mg/kg
Crude Fat (min) 3.0%
Iodine (act) 9.7 mg/kg
Crude Fibre (max) 9.0%
Copper (act) 100 mg/kg
Fluorine (max) 150 mg/kg
Manganese (act) 410 mg/kg
Calcium (act) 2.2%
Zinc (act) 782 mg/kg
Phosphorus (act) 0.5%
Cobalt (act) 4 mg/kg
Sodium (act) 0.3%
Vitamin A (min) 69,000 IU/kg
Magnesium (act) 1.0%
Vitamin D (min) 11.300 IU/kg
Potassium (act) 1.0%
Vitamin E (min) 650 IU/kg
Sulfur (act) 0.5%
Individual results from the use of this product may vary due to management, environment, genetics, health and sanitation differences. Therefore, Trouw Nutrition Canada, Inc. does not warrant or guarantee individual results.