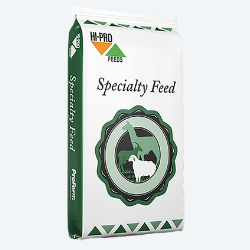 Product Number: 13348975
Product Information
Feeding Instructions:
Feed to lambs who are 2-6 weeks old, free choice to a maximum of 2% of bodyweight. Along with good quality hay or alfalfa. Always provide salt free-choice and provide clean water.
Caution:
Directions for used must be carefully followed. Do not use this feed in association with another grain ration, supplemental or premix containing supplemental selenium
Note:
Sheep are susceptible to copper deficiency and copper toxicosis. Consult a qualified nutritionist or veterinarian to determine suitability of this feed to local conditions.
Ingredients:
A list of the ingredients used in this feed may be obtained from the manufacturer or registrant.
This feed contains added Selenium at the level of 0.3 mg/kg.
Feed Analysis
Crude Protein (min) 18.0%
Copper 8 mg/kg
Crude Fat (min) 2.0%
Phosphorus (act) 0.6%
Crude Fibre (max) 10.0%
Vitamin A (min) 9,900 IU/kg
Sodium (act) 0.3%
Vitamin D (min) 2,5000 IU/kg
Calcium (act) 1.0%
Vitamin E (min) 30 IU/kg
Individual results from the use of this product may vary due to management, environment, genetics, health and sanitation differences. Therefore, Trouw Nutrition Canada, Inc. does not warrant or guarantee individual results.