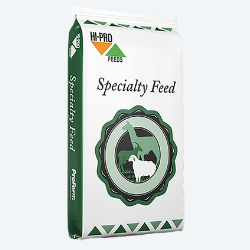 Product Number: 13347975
Product Information
Feeding Instructions:
Mix 15kg of goat premix with 565kg of rolled oats, 400kg of alfalfa meal and 20kg of molasses or oil to make a grain ration. This ration should be fed at a rate of 2kg per goat per day, (providing 30g per head per day). Ensure that an adequate supply of water is available to the animals at all times and salt should be offered free choice.
Warning: This feed contains added copper. Do not feed to sheep or related species.
Caution:
Directions for use must be carefully followed. Do not use in association with another feed containing supplemental Selenium.
Ingredients:
A list of the ingredients used in this feed may be obtained from the manufacturer or registrant.
This feed contains added Selenium at 20 mg/kg.
Feed Analysis
Calcium (act) 12.4%
Manganese (act) 2885 mg/kg
Phosphorus (act) 5.0%
Iodine (act) 95 mg/kg
Salt (act) 22% Zinc (act) 3600 mg/kg
Sodium (act) 9.8%
Cobalt (act) 7.2 mg/kg
Potassium (act) 1.4%
Fluorine (max) 200 mg/kg
Magnesium (act) 3.2%
Vitamin A (min) 500,000 IU/kg
Iron (act) 1610 mg/kg
Vitamin D (min) 90,000 IU/kg
Copper (act) 600 mg/kg
Vitamin E (min) 2500 IU/kg
Individual results from the use of this product may vary due to management, environment, genetics, health and sanitation differences. Therefore, Trouw Nutrition Canada, Inc. does not warrant or guarantee individual results.